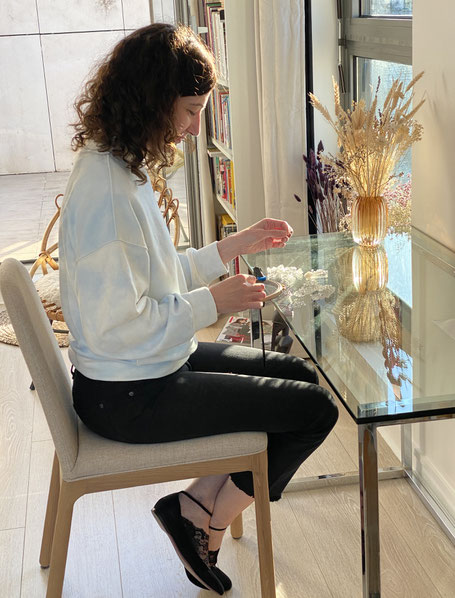 PEOPLE OF MY (HE)ART / ZYKLUS BIG (HE)ART.
Highly sensitive people with speaking eyes, whose spiritual presence is always there when you need it: KIRSTEN THOERLE. For me, the most important thing is the kind of energy a person or a thing spreads. There is always a reason why other sensitive, feeling ahead of their time artists of world brands like DIOR, CHANEL, VUITTON and many others love to work with the outstanding textile artist. On purpose I have chosen a picture which shows KIRSTEN in her atelier in the middle of a creative process. Watch out for her exclusiv workshops: They are much more than teaching smart techniques between antique and innovative – they open your mind and sharpen your senses. 
ATELIER KIRSTEN PARIS, November 13th 2021 (see below). Information: @kirstenthoerle
PS D'autres ateliers avec d'autres techniques seront à venir.
LOVE FOR AN ANGEL!
MIZZ MARPLE
The Fabulous AnalytiCat